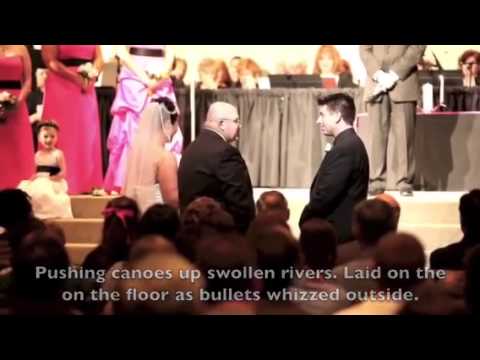 In case you could not view this video above, copy this link below into your browser:
https://www.youtube.com/watch?v=YyqBTHk6pBk
This video has been flying around facebook lately. In case you haven't seen it yet, take a quick look now.
I don't know this Dad, but I love this guy! I love any Dad who speaks honestly and directly to his daughter's boyfriends…. Husbands. Before he communicated his final word in concise, succinct, unmistakable clarity, he acknowledged two key things.
1. He acknowledged that he and God were partners in how his daughter turned out. Are you consulting God's wisdom, heart and vision for your daughter? If you are relying only on your own ability and input, your daughter will be cheated out of God's best for her life.
2. He spoke of the great journey it has been in raising her. You will have many ups and downs in raising your kids. Developing your child into a fully functioning, flourishing adult is a marathon, not a sprint. Relax about the day to day struggles and focus on the big picture finish line.
Then came the final statement in this video which resonates with every dad in the world that has ever lived throughout all time. All of us have thought of the day when we will be giving our daughters away at the altar. Many of us have teared up during movies like "Father of the Bride" as we anticipated that moment when some other dude becomes the number 1 man in our daughter's life. While we all hope and even pray for a great young man to come into our daughter's life, we simultaneously dread it as well.
The Dad in this video said to his would be son in law what we all think and what we all want to say. "Don't Screw it Up!" As if to say, "Don't be stupid, don't be selfish, don't look elsewhere, be smart with money, take care of my little girl, etc etc"
Guys who are reading this blog. You have one shot at this life and one shot at raising a great daughter. It's really not all that hard to do the right thing most of the time. You and God are partnering on an incredible project known as your daughter.
So, in the words of the Dad in this video….
DON'T SCREW IT UP!
Press On
Alan Smyth
PS: The picture of the Dad and bride above is Gary Parsons walking his spectucular daughter Katie down the isle. This picture as well as Gary's input on how to be a great Dad is featured in the book "Prized Possession."
PSS: For lots of practical tools on how to NOT "screw it up", search the archives of this blog. Read the past posts. There is already plenty of great input on this blog.
PSSS: Subscribe to this blog at www.myfatherdaughter.com